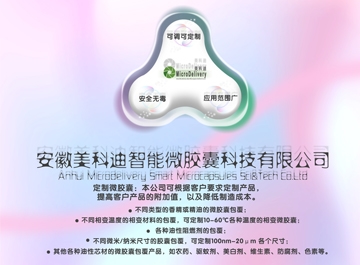 Customized Micro-/ Nano-Capsules
Customized Micro-/ Nano-Capsules
update time:2019-04-17
CLICK:
Detial

This company can provide customized products as required by customers, so as to increase the additional value of products and reduce their manufacturing costs.
Such as:
Encapsulation of different types of fragrances;
Encapsulation of phase-change materials with different phase-change temperatures; Customized phase-change microcapsules with temperature ranging from 10 to 60℃ are available.
Encapsulation of various oily flame retardants;
Encapsulation products of other oily core materials such as pesticides, mosquito repellents, skin lighteners, vitamins, preservatives and pigments.
Encapsulation of different sizes in micrometer/nanometer covering 100nm-20μm;
Safety of meikedi microcapsules: through standard technical service (Shanghai) co., LTD. (SGS), the safety of meikedi microcapsules was tested in accordance with the technical code for safety of cosmetics (2015 edition).
Chemical test: 15 kinds of components such as dichloromethane and formaldehyde were not detected. Lead, arsenic, mercury and cadmium were far below the standard requirements.
Microbiological test: no heat-resistant coliform, pseudomonas aeruginosa and staphylococcus aureus were detected, and the total number of bacterial colonies, molds and yeasts were far below the requirements of the code.
Skin irritation test: according to the grading of skin irritation intensity, this sample has no irritation intensity to the rabbit skin.