Mei kedi participates in the Anhui province celebration of 40th anniversary of reform and opening up
VIEWS: 发布时间:2018-12-20
An exhibition celebrating the achievements of scientific and technological innovation on the 40th anniversary of China's reform and opening up was held in binhu international convention and exhibition center in hefei, east China's anhui province, dec 18, 2017. This exhibition will showcase 40 years reform and opening up, especially in the field of science and technology innovation in anhui province in recent years remarkable achievements and breakthrough in key core technology, and has front leading role in the industrial innovation of products, all reflect the "innovation is the first in the development of leading power, is the strategic support of construction of modern economic system", by representative in anhui province science and technology innovation to 40 anniversary of reform and opening-up.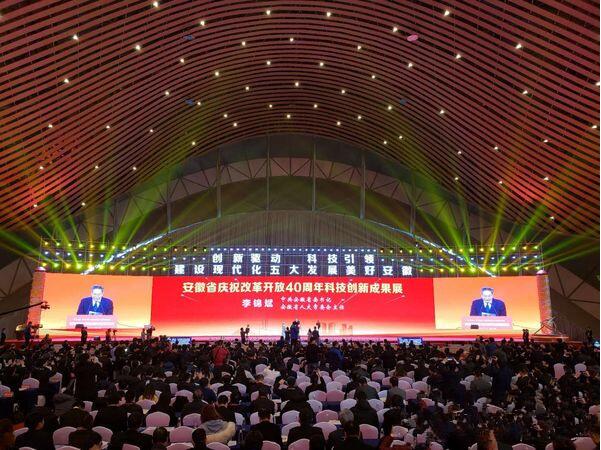 The main exhibition hall covers a total area of 23,000 square meters and consists of ten exhibition areas including hall of order, original innovation exhibition area, knowledge innovation exhibition area, technology innovation exhibition area, industrial innovation exhibition area, Yangtze river delta integrated innovation exhibition area, civil-military integration exhibition area, innovative talents exhibition area, future prospect exhibition area and collaborative industry exhibition area. With the theme of "innovation driven, science and technology leading, construction of modernization and five beautiful developments of anhui", this exhibition focuses on the innovation journey, innovation measures and innovation achievements of anhui province in the past 40 years of reform and opening up.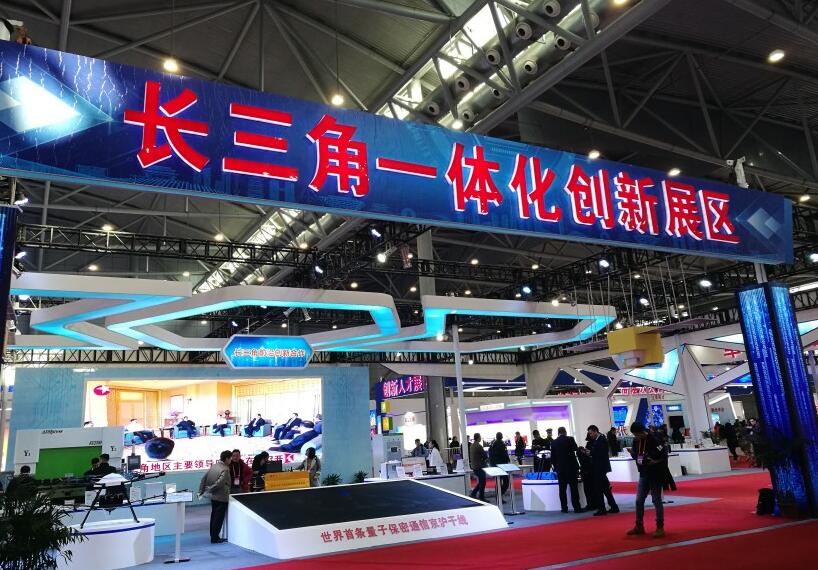 Dozens of fragrant microcapsules from anhui meikedi are displayed in the integrated innovation exhibition area of the Yangtze river delta as innovative achievements. In recent years, anhui meikedi has made remarkable achievements in continuous innovation. We are proud to present the fragrance essence microcapsule as the representative exhibit in the science and technology innovation achievements exhibition on the 40th anniversary of the reform and opening up.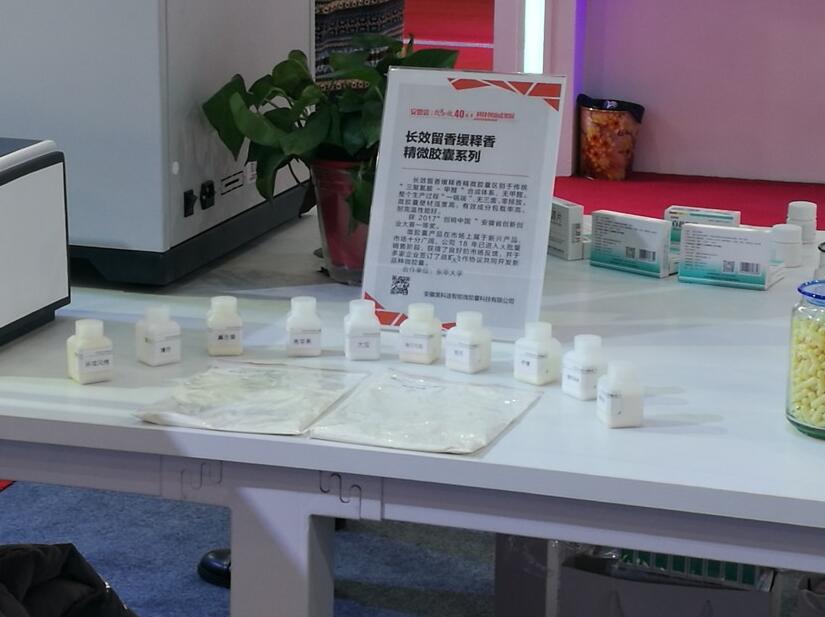 Our sweet subtle capsule, with synthetic system different from traditional "melamine - formaldehyde synthesis system, the whole production process" ones ", no "three wastes", zero emission, microcapsule wall material with high intensity, high effective constituents content and high temperature resistant performance is good, excellent properties and can be widely used in textile, household cleaning and personal care, cosmetics, paint, ink, plastic, etc. After successfully gaining wide popularity in the market, meikedixiang essence microcapsule is still firmly committed to the pace of innovation and research and development, and constantly improving its height, not only to allow more enterprises and consumers to enjoy more high-quality microcapsule products, but also to realize the vision of the enterprise step by step: embracing the world with tiny capsules.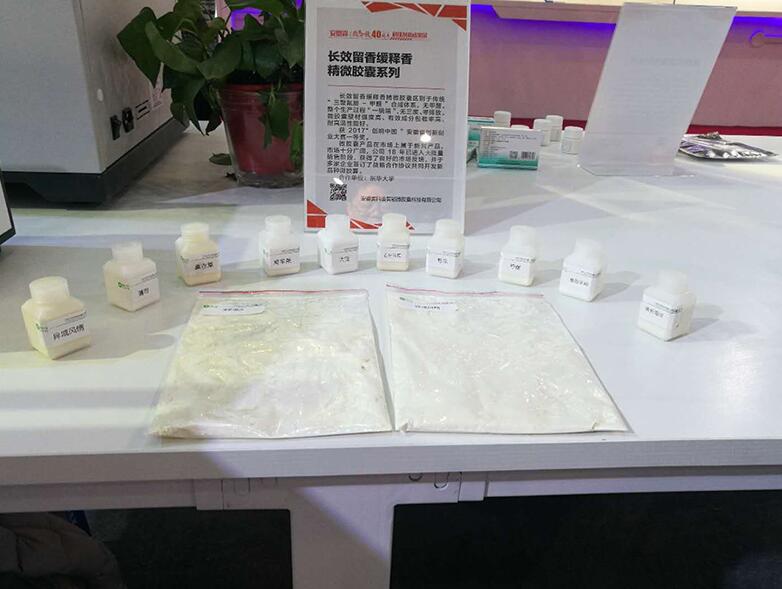 Since its development in 2013, anhui meikedi has always maintained the craftsman spirit of excellence and the enterprising attitude of continuous research and development, and has achieved many innovative results. At present, anhui meikedi has applied for 2 Chinese invention patents and 2 PCT international invention patents. On product performance, anhui beauty Cody researchers break through difficulties, developed with excellent properties, customizable microcapsule products, not only make anhui beautiful Cody to shine in the industry and also supported by the government, "high-level science and technology talents team", "2017 innovation entrepreneurship competition first prize" and other honors.
上一个:Meikedi microcapsule will attend NYSCC2018 exhibition in New York
下一个:Ooops!