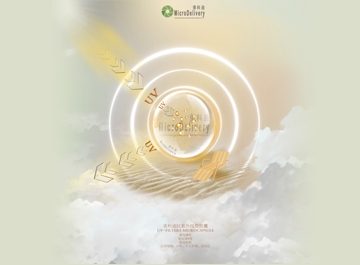 UV-filter Microcapsule
UV-filter Microcapsule
update time:2019-04-17
CLICK:
Detial
MicroDelivery UV filter microcapsules are developed by our unique formula to coat different kinds of organic UV filter.
On June 1, 2016, CFDA (China Food and Drug Administration) issued new regulations: SPF(Sun Protect Factor) identifies are allowed to be a maximum of 50 +, protective effect of long-wave ultraviolet (UVA) identifies can reach the highest PA++ + + ,which means the era of the highest SPF of 30 + is finally over. According to the new regulations, in order to improve the SPF and protective effect, many companies want to increase the content of organic UV filter of product, which increases the risks to skin because of infiltration of UV filter monomer. Ultimately, these will lead to a growth of toxicity and cost of product.
The polymeric structure of UV filter capsules shell can not only prevent the UV filer from light degradation, it also can increase the SPF, improve the skin-touch and gain better waterproof properties of product, more importantly, the capsule provide the best way to isolate skin with toxic substances, which is significant when applied to sunscreen, segregation frost and other kinds of makeup products, as well as fiber textiles such as protective clothing, etc.
Main performances of MicroDelivery UV filter microcapsules:
Avoid toxicity: avoid the toxicity caused by UV filter soak into the skin.

Improve the SPF value: the SPF of products using UV filter microcapsules can be increased by more 90% than the pure equivalent UV filter products.

Improve waterproof performance: microcapsules can be easily dispersed in formula of products such as sunscreen, which can greatly improve the waterproof performance of sunscreen on the skin surface.

These products are in the international leading level (all the test report conclusions relating to MicroDelivery

UV filter microcapsules are confirmed by L 'oreal American headquarters) , as it were, which fill the domestic blank.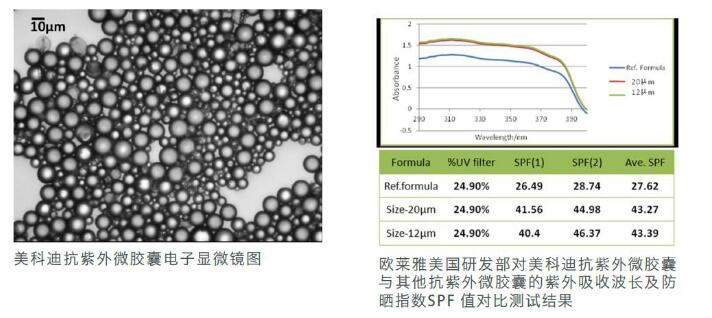 (Left)on microscope image of MicroDelivery UV filter microcapsules. (Right)ows the contrast of UV absorption wavelength of a reference sample of UV filter microcapsules and MicroDelivery UV filter microcapsules (size12μm and 20μm), and in the table SPF value of these three kinds of microcapulles are listed, which indicates that different sizes of MicroDelivery UV filter microcapsules have functions of sun block by absorbing ultraviolet wavelengths (290 nm - 390 nm), and SPF greatly improved (frome27 to 43, the data is from the performance test report of MicroDelivery UV filter microcapsules provided by L 'Oreal American).